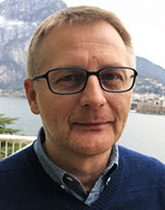 Krešimir Gjuračić
University of Zagreb, Croatia
Initial scientific background in Molecular Biology and Biotechnology, PhD Krešimir Gjuračić, research associate, obtained during 1990's, through education at the at the Faculty of Food Technology & Biotechnology, Zagreb University, where he's now involved as external associate teacher. From the same Faculty he obtained the PhD degree.
This interest grew even more during his first postdoctoral study from 1998-2001 at the ICGEB, AREA Science Park Trieste, in the Laboratory of Yeast Molecular Genetics.
This initial scientific input gave him an opportunity at the PLIVA Research Institute, subsequently acquired by Glaxo Smith Kline, to become a Head of Molecular Biology Laboratory.
In parallel, he conducted a collaborative scientific project at the University of Padua, setting up a Transgenic Facility at home Institute.
Due to a personal reason, and at the time announced downsizing of the GSK R&D, he moved to Trieste, Italy and joined again the prof. Carlo V. Bruschi's team, initially as an external fellow.
Subsequently, he got an opportunity to continue his initial research work in the field of Immunology, financed by Crescendo Biologics, Cambridge UK.
After concluding the project with Crescendo, he joined the ACIES Bio CRO company until 2016. 
From 2016 to 2019 he was employed by the company GNOSIS by Lesaffre, Desio, Italy as Vice R&D Biotech Director and Director at the year 2019.