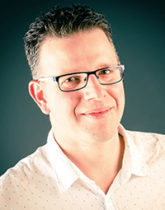 Jos Houbraken
Westerdijk Fungal Biodiversity Institute, The Netherlands
Jos Houbraken is group leader of the department Applied and Industrial Mycology at the Westerdijk Fungal Biodiversity Institute in the Netherlands.
The mission of his group is to generate and apply knowledge of fungi in relation to food, indoor environment and industry.
His main interest is studying the biodiversity and taxonomy of the species and genera occurring in food & feed (incl. mycotoxigenic fungi) and the built environment, with a focus on Penicillium, Aspergillus and related genera.
His research group also studies the effect of various stresses (e.g. temperature, water activity, preservatives) on food- and indoor fungi at a fundamental and applied level, with the aim to find novel solutions for prevention of food spoilage and fungal growth in the harsh indoor environment.