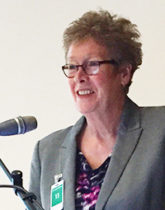 Hilary M Lappin-Scott, OBE
Cardiff University, Cardiff, Wales, United Kingdom
Professor Hilary Lappin-Scott is a microbial ecologist and is currently an Honorary Distinguished Professor at Cardiff University.
She was elected as President of FEMS for three years from September 2019, having successfully completed terms as the elected President of the Microbiology Society (formerly the Society for General Microbiology) in the UK (2009-2012) and elected President of the International Society for Microbial Ecology (ISME) for two terms (2006-2010). 
Her research group work on biofilms and the microbial degradation of environmental pollutants, specifically unravelling interactions between surfaces and microbiomes of relevance to industry, health and the environment.
Professor Lappin-Scott co-founded 'The ISME Journal'.
Much of her work now concerns supporting early career researchers and with furthering equality, diversity and inclusivity within higher education and STEM careers. 
Prof Lappin-Scott was awarded the Order of the British Empire in January 2018 for her contributions to Microbiology and for the advancement of women in STEM.