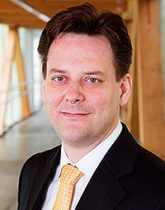 Roland Ludwig
BOKU – University of Natural Resources and Life Sciences, Vienna, Austria
Roland Ludwig received his PhD in biochemistry from BOKU – University of Natural Resources and Life Sciences (Vienna, Austria) in 2004.
He worked as a postdoctoral researcher at the Research Centre Applied Biocatalysis (Graz, Austria), the Austrian Centre of Industrial Biotechnology, and at Lund University (Sweden).
In 2011, he started the Biocatalysis and Biosensing Laboratory at BOKU where he studies enzymes by protein engineering, characterization and applications in biocatalytic processes and biosensors.
The basic research in microbiology, enzymology, biochemistry and bioelectrochemistry performed in his laboratory has been supported by national and European research grants including an ERC Consolidator Grant and involves numerous collaborators worldwide.
Also interested in applied research and development, he is a cofounder of DirectSens GmbH (Vienna, Austria), which develops and produces biosensors for food and medical applications.