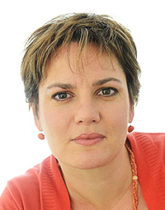 Vanja Klepac-Ceraj
Department of Biological Sciences at Wellesley College, Wellesley, MA, United States of America
Dr. Klepac-Ceraj is an Associate Professor of Microbiology in the Department of Biological Sciences at Wellesley College, Wellesley, MA. 
In 1998, she received a Bachelor of Science in Molecular Biology and Mathematics from Beloit College, Wisconsin, USA.
In 2005, she completed her Ph.D. from a graduate program in Biological Oceanography at Massachusetts Institute of Technology and Woods Hole Oceanographic Institute located in Cambridge and Woods Hole, Massachusetts, respectively. 
Her research is at the forefront of microbial ecology, focusing on understanding the interplay of microbial community composition and function in natural microbial communities.
Her interests are in understanding how microbial communities are formed and how environmental factors influence microbe-microbe interactions and overall community stability.