Report and photos from our previous congress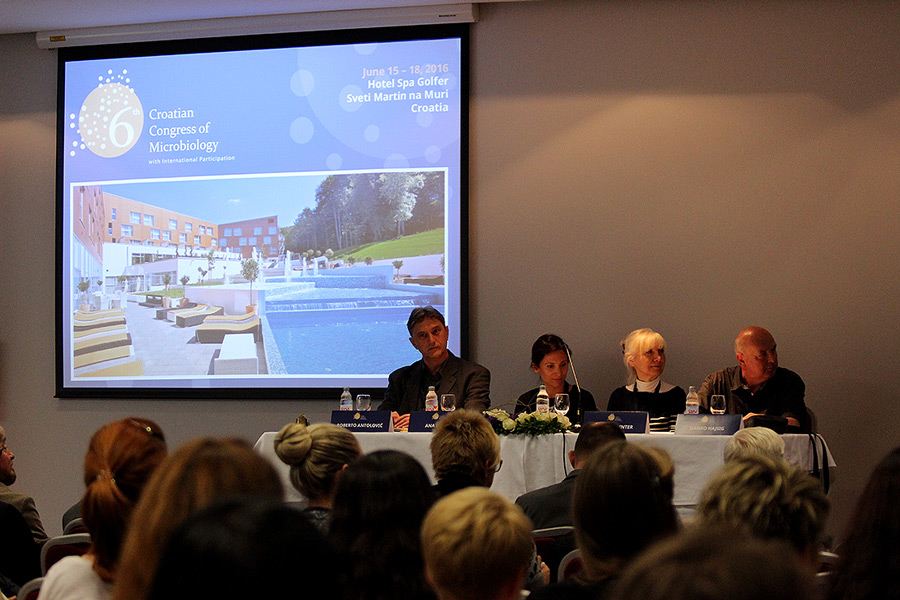 Published on: 07.07.2021.
6th Croatian Congress of Microbiology with International Participation brought together a unique national and international mix of scientists and experts coming from universities, research institutions and industry. We had more than 220 registered participants from Croatia and 11 other European countries. Importantly, the Congress was free for students and hosted 35 students from University of Zagreb (Croatia) and University of Ljubljana (Slovenia).
Congress Programme
The programme of the Congress had seven sessions and covered all important fields of microbiology with 15 invited lectures, 15 short oral presentations, two sponsored lectures and 37 poster presentations. A keynote lecture on Zika virus was delivered by prof. Luis E. Cuevas (United Kingdom).
Special Congress Events
Congress programme was extended with two workshops, one round table and CMS Publications Launching.
These satellite congress events enriched the meeting and facilitated the participation of the local community, thereby increasing the regional significance of the meeting.
Workshop: Microbes in Vineyard
The workshop "Microbes in Vineyard" was organized mainly for the local winemakers. Lectures covered topics such as wine yeasts and trends in winemaking, as well as diseases of grapevines. It was held at the local winery "Vinska kuća Hažić".
Workshop: A closer look at the DNA molecule
The second workshop "A closer look at the DNA molecule" (held at high school "Josip Slavenski", Čakovec) was mainly for high school students and teachers. It consisted of lectures on DNA and chromosomes and a practical part on DNA extraction using ingredients available in any kitchen.
Round table: West Nile, Zika Forest and Makonde Plateau – Holiday Spots or Something Else?
During the round table entitled "West Nile, Zika Forest and Makonde Plateau – Holiday Spots or Something Else?" most common mosquito-transmitted viruses were discussed, with emphasis on Zika virus.
CMS Publications Launching
Finally, CMS launched two new publications: "English – Croatian Life Sciences Dictionary" (web-site) and "General Microbiology Manual" (university textbook).
Social programme
Social part of the Congress was also very rich and diverse. At the Opening ceremony participants and guests were entertained by female vocal group "Sveti Marko". At the Welcome reception KUD Mihovljan gave a folklore performance.
Excursion
Congress trip was well organised and attractive. Participants had the opportunity to get to know Medjimurje – a region rich with culture, scenic beauty and extremely welcoming people. Guests have visited several locations in Medjimurje: Žabnik, Mursko Središče, Čakovec and Jurovčak.
Lastly, based on the feedback of participants, we can undoubtedly conclude that the Congress was in every respect excellent, well visited, with meticulously prepared programme. The organizers would like to thank all of the lecturers, participants, sponsors and guests who contributed to the quality of the event.
Danko Hajsig and Ana Bielen